quality Diamond bruting wheel(diamond tools)
Wholesale Diamond bruting wheel Product features 1. Wholesale Diamond bruting wheel High grinding efficiency and good polishing; 2. Small grinding force, low grinding temperature, long service life and durability; 3. The Wholesale Diamond bruting wheel has high precision, good surface quality and good shape retention. 4. The Wholesale Diamond bruting wheel has high wear resistance and less abrasive consumption, especially when grinding very hard and brittle workpieces;
Vitrified Bond Diamond&CBN Grinding Tools
---
Vitrified quality Diamond bruting wheel is installed on the CNC machines. It is widely used for polishing and bruting natural diamond. It can substitute PCD (polycrystalline diamond) and will lead the trend of big sale in diamond processing industry gradually in the world market. Cheapest Diamond bruting wheel has been proved its superiority in the jewellery and diamond processing industry.
quality Diamond bruting wheel Feature:
Cheapest Diamond bruting wheel High working efficiency;
Long using life;
Less chipping and good surface finishing;
Cheapest Diamond bruting wheel Various formulas are available for different applications;
Flexible in bond adjustment as per porosity;
Various diamond grits for different applications like roughing, fine polishing and finishing
Cheapest Diamond bruting wheel High performance and finished product ratio;
In our clients' application, they will start to process the diamond bottom firstly. The common specification for diamond bottom 170*12*32*14mm and 200*15*32*15mm, regular grit is 100/120, 170/200, 325/400; 400/600.
After finishing diamond bottom process, they take out the diamonds and proceed to the next step: diamond bruting. For this step, the common specification for diamond bruting wheel they used is 170*10*32*14mm; the regular grit is 325/400, W40, W28, W20. Choose different grit to achieve diamond surface roughing, polishing and finishing. Concentration includes C25, C50, C75, C100, C125 and C150 for clients' option.
quality Diamond bruting wheel Product specifications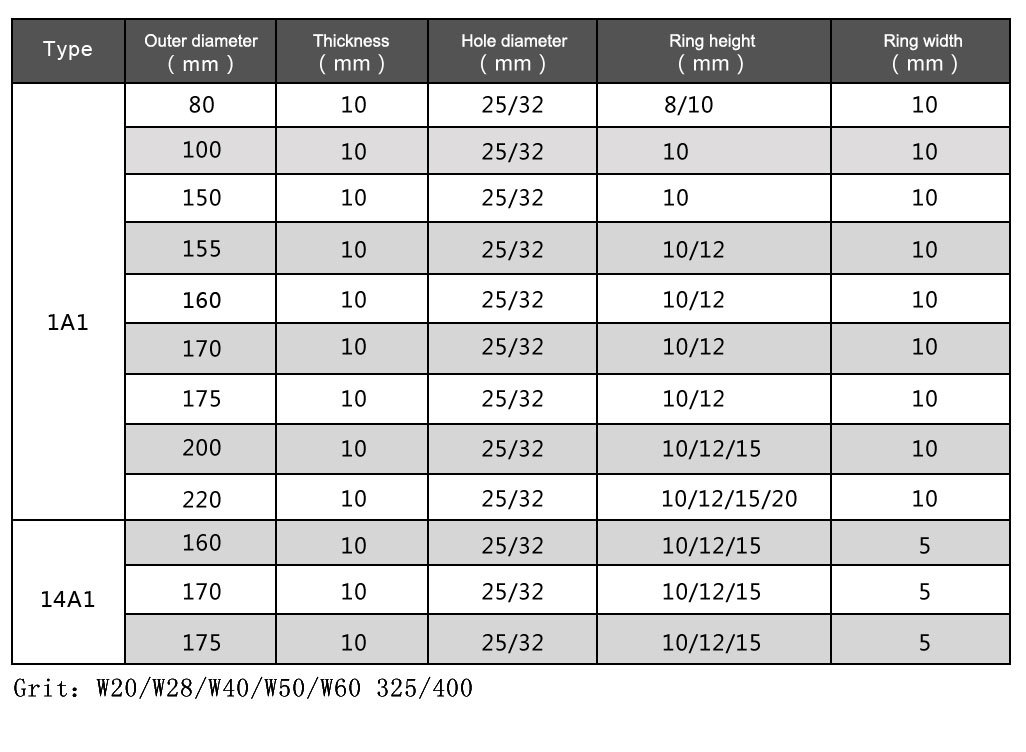 The vitrified Cheapest Diamond bruting wheel wheels for diamond base and wheels for diamond surface belong to rough processing, and it is recommended to use 325/400 grain size;
The vitrified diamond grinding wheel for diamond edging can choose W40 grain size, with high grinding efficiency and moderate polishing;
If it is used for diamond polishing, it is recommended to use W20 fine grinding wheel.